Loyalty means a lot to us--and to you!        
Earn new credentials with our free courses. 
Access your Roofing or Siding credential program info and marketing materials. 
Credentialing Program
To keep growing, keep learning. We offer a variety of free online and in-person courses, including continuing education, product knowledge, and credential programs.
Tools
Tool
Start designing now! ColorView makes selecting and coordinating siding, roofing, and trim easier and more fun.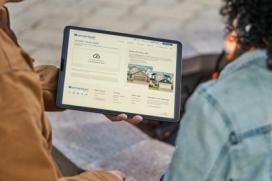 Tool
Patented tech for fast, detailed roofing, siding, or window measurements. 
CT Mobile Training Vehicle—Coming to a Town Near You!
At CertainTeed, we understand the value of continuous learning and the impact it can have on your business's success. That's why we've designed our Mobile Training Vehicle's, fully equipped with the latest products and resources to deliver hands-on training sessions tailored to your team's needs. 
Contact your local Territory Manager today to arrange a visit!